News
---
News around Wim and the method.
Wim Hof explains benefits of cold showers
A thrilling experience on the Ellen DeGeneres show, sharing mind-blowing facts about cold exposure and how it influences our mood.
Goalcast: The Dark Secret Behind The Ice Man
An inspirational tell-all account about Wim's life and how everyone can find motivation even in the darkest of times. Check it out on YouTube.
Wallstreet Journal interview
From top athletes to entrepreneurs, and your next-door neighbor; here's why taking ice-cold baths became appealing to everyone.
Check out the full article.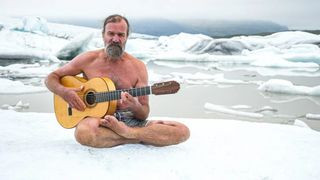 Recommended by the likes of Joe Rogan and Graham Hancock, this very insightful documentary pieces together the last study made on the endogenous properties of DMT coupled with the potential power of Wim Hof Method breathing.
You might know him as Wolverine, or perhaps as Jean Valjean; actor Hugh Jackman has now also taken to cold plunges. "We first heard about it from Wim Hof" he mentions, adding that "He's crazy... and it just makes you realize, just a little bit of crazy every day is good. It's good for the soul."
Check out his cold plunge below.