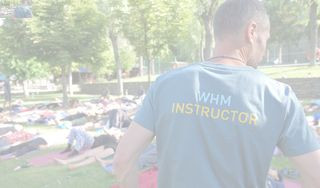 Wim Hof Method Academy
---
Become a certified Wim Hof Method Instructor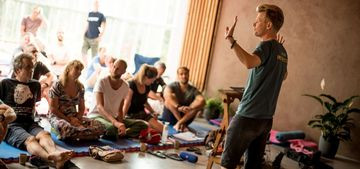 Are you interested in becoming the next WHM Instructor?
Learn all the ins and outs to teach the Wim Hof Method in a fun and safe way. 
When the WHM is practiced in the correct way, it contributes to a healthy, strong and happy life. As a certified Instructor you can teach and guide others in the Wim Hof Method and form a tribe closer to home.
The Academy program consists of three Modules, detailed below. All three must be completed in order to certify.
How do I become a Certified Instructor?
To become an instructor, you must successfully complete the Academy program. The program consists of three modules. All three must be completed to become certified. To begin this program, you must complete Module I (Online Fundamentals Course). The next step is Module II (Instructor Video Course), where you gain Instructor skills and knowledge. After the completion of both Online Courses, you will be invited to participate in Module III. Module III consists of a 4-day physical training. In these contact hours you will receive expert instruction on all parts of the method, and more importantly how to teach them in a safe and professional manner. Between Module II and Module III there is study material and homework to be done. After you pass all parts and pass the evaluation, you will be certified as a level 1 WHM Instructor.
During the course you obtain the following skills:
Be able to convey the correct technique in order to guarantee a safe and sustained practice
Have a thorough grasp of the various physiological mechanisms that are impacted by the Wim Hof Method
Be able to tailor the application of the Method to the characteristics of individual practitioners
Possess presentation skills that translate to an enjoyable experience,showing that the Wim Hof Method is fun and accessible, ultimately incentivizing people to share our important message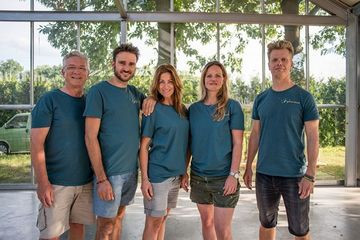 Our Fundamentals Online Course will get you acquainted with practicing the Wim Hof Method. The course will give you the tools and techniques to develop your own practice and provide you with relevant experience to pass on when learning to teach the Method.
Completion of our Fundamentals video course grants eligibility to apply for the Online Instructor Course. In addition, you are expected to familiarize yourself with the basic physiological principles underlying the Wim Hof Method.
Module II is our Online Instructor Course. This course is specially designed for prospective instructors. The video course program covers both the theory and practice of the Wim Hof Method. It consists of 10 parts. In each part, we will focus on a topic related to the WHM. You will delve into physiology; breathing, cold exposure, physical exercises, learn about mindset, our body's systems, the scientific studies, safety aspects, etc. We finish each Module with homework and exercises.
Note:
- You must have completed the Fundamentals video course to be eligible for application for the Advanced Course.
- Instructors do not offer any of the Academy Modules directly, and you can only apply and register through this website.
- As a general rule the Trajectory has to be completed in one year. Please consider this carefully when applying.
This final leg will test you on what you have been taught and practiced during the Online Instructor Course, as well as on your ability to teach prospective participants. We expect instructors to have all the knowledge and practices ready before attending Module III. Keep in mind that Module III is primarily meant for evaluation of all that has been learned in preparation for the Module. Next to this, we will delve deeper into your practice and understanding during a 5-day training program.
This part of the training is led by a certified Wim Hof Method Instructor. Wim may be present, but this is not guaranteed.
Successfully finishing the Master Module will allow you to become a Certified WHM Level 1 Instructor, and enables you to host Level 1 activities (eg. WHM Breathing Classes, WHM Fundamentals Workshops, 5-10 week courses). After one year, you can apply for promotion to Level 2. This will guarantee a certain degree of competence and allows you to host Level 2 activities, including Travel events.
Note: You must have successfully completed the Online Instructor Course to qualify for, and be invited to Module III. To become certified, all three must be completed successfully.
Minimum 2 years in teaching/coaching experience in a relevant working environment (e.g. teaching adults)
Excellent teaching and/or coaching skills
Commitment to the principles of Innerfire and to the Wim Hof Method
Agree to the Wim Hof Method Manifesto
You have practiced with cold exposure (including an ice bath)
Good English language proficiency (the Academy is only taught in English)
First Aid Certificate
Note: We reserve the rights to not certify you if your proficiency is considered inadequate and/or if you do not meet the requirements.
Receive an automatic update when you can register for the new Academy Trajectory
Please take note of the following:
The Wim Hof Method Academy is only taught in English.
The Module content, certification criteria and Instructor Guide are examples only and we reserve the right to make amendments to the Academy Program as necessary.
This course is not intended for people who are pregnant or who suffer from epilepsy. People with cardiovascular health issues, or any other (serious) health conditions, should always consult a medical doctor before starting with the Wim Hof Method.
For additional questions please contact academy@wimhofmethod.com