Winter Expedition
Przesieka, Poland with Wim Hof
Sold Out
Location
Poland
Przesieka
Sold Out
Location
Poland
Przesieka
Sold Out
Location
Poland
Przesieka
Information
Program
What to bring
Location
Journey to the Karkonosze biosphere reserve in Poland to learn the wisdom held by the merciless yet righteous Cold.
Our coveted annual Winter Expedition is the ultimate Wim Hof Method experience. This is five days worth of extensive, expert training and guidance at the hands of Wim Hof and a select group of seasoned WHM Instructors.
Delve ever deeper into your own mind through extended immersive breathing sessions. Go from inward to outward exploration as you head into the unspoiled surroundings. Each morning the freshly snow-covered hills are a blank canvass for you to play with. Trace the melted snowcaps from small streams to waterfalls. Connect with the cold in playful, creative ways, all the while training your nervous-, immune-, and cardiovascular systems.
Guiding you every step of the way is a group of veteran WHM Instructors. They will instruct you in the Wim Hof Method breathing techniques, help you channel the trepidation you will no doubt feel at your first encounter with the icy brooks and answer the many questions that arise over the course of the week.
Your training culminates in a climb of one of the peaks in the Sudeten mountain range. This is a formidable challenge; one that demands complete focus. You will need to bring everything that you've learned into play, and find that still, centered mind state. The fact that you are truly tested is also what makes it so incredibly rewarding when you do finally reach the top.
This is also very much a collective journey. Support from the pack is an essential part, especially on the mountain, and you grow ever closer to one another as the week progresses. The overall experience is incredibly bonding. People flock to Poland each year from just about every corner of the world and leave having forged friendships that last them a lifetime.
There is so much potential inside you that is waiting to be tapped. Reconnect with the primal nature that right now lays dormant at your core, ignite your inner fire, and by the end of the week, you will be astounded to find the cold your warm friend.
COVID-19
Please inform yourself of travel restrictions imposed by your own government, so that you know what to do before reentering your country of origin. If you must show a negative PCR test upon arrival in your home country, take into account the time it takes for your test result to come back. You may need to book your return flight for one or more days after we drop you off at the Prague airport. Various PCR tests are available at the airport, with test result times varying from 2 to 48 hours. You can read detailed infomation here.
  Note that the government-imposed measures are subject to constant change. We will send you updates as they become available, but please note that we are not liable for any policy changes that are dictated by third parties. We strongly recommend you get comprehensive travel insurance.   If due to these restrictions you are forced to cancel, please note that we can only reimburse you in full if you cancel no less than 4 weeks out from the start of the expedition.
Although this Expedition is at times challenging, it is also a testament to the capabilities that lie beyond our imagination. Every year, septuagenarians astound themselves and their fellow participants as they reach the summit. This expedition is literally not for the faint-hearted— you need to be in relatively good health, and it helps to be in shape. At the same time, this is an experience for young and old, short and tall, man and woman.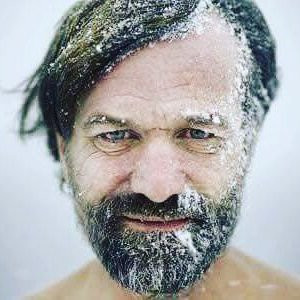 If you learn how to control your mind, anything is possible!
Instructor level
Activities

Nature

Ice Bath

Breathing
What you get
- Accommodation
- All local transport
- All activities
- 3 nourishing meals per day
Program
Upon arrival, the roughly 100 participants are divided into premade groups of 20-30 each. Every group has a lead and an assistant WHM Instructor. There will be a welcome talk, some food, and an early bedtime for a fresh start to the week. You are assigned a room that you share with anywhere from 1 to 5 other people. If you want to be lodged with a partner or friend, you can indicate that preference upon booking, which in most cases we can accommodate.
Mornings typically start with an extensive breathing session. There are several secluded spaces, so that each group can have their own intimate experience. Instructors can take their group deep, while providing ample individual attention and guidance.
Most afternoons you will be off into the Polish rivers and hillsides for a variety of challenging but fun activities, slowly getting acquainted with the cold. Meanwhile the Iceman keeps a watchful eye as he moves between the groups, spotting those who need an extra boost and sprinkling them with a dose of magic Wimness. There is no telling beforehand what spontaneous shenanigans he will surprise you with, as Wim goes with whatever the cold whispers.
Evenings is time to consolidate what your body and mind have learned. Reflect— by yourself, with fellow expedition members, and/or with your Instructors. Some nights Wim takes center stage to draw the bigger picture. He expounds on the importance of his method, its vast implications and incredible potential.
At the end of the week, it is time for your ultimate test— summiting the mountain. You will need your training, and you will need the person next to you. Good luck, and most of all, enjoy!
Day of arrival
Bus ride from Vaclav Havel Airport to camp
Days of growth
Each instructor has their own program, and will adjust this based on the character and progress of their group. Activities are further subject to the weather and Wim's whims. For the best experience, embrace the unknown and the uncertain.
Day of return
Depart for bus ride back to Vaclav Havel Airport
Arrival back at Vaclav Havel Airport
What to bring
A comprehensive pack list is sent out upon registration.
Food
A selection of fresh, organic produce to replenish the calories that are rapidly burned at subzero temperatures.
Przesieka, Poland
Info
This event takes place in the tiny Polish village of Przesieka.