Information
Program
What to bring
Location
This two/three day, in-depth session will be will be jam-packed with insights, scientific explanations and advanced techniques to help you master the ground-breaking breathing, focus, and cold adaptation techniques to increase vitality, control stress, influence the immune system and uncover the hidden abilities of your physiology. An incredibly simple yet insanely effective and scientifically proven way to unleash your personal potential. If you have done the 10-week course and have been practicing on your own, this seminar will provide answers to your questions, questions to your answers, and take you to the next level.
Who is this weekend for?
Everybody can participate at their own level; no pressure, just a lot of fun! We do expect participants to be familiar with the basics of the Wim Hof Method, either via one of our online video courses or a Fundamentals WHM Workshop or Weekend.
Instructor
[134]
Réveille ton vrai potentiel grâce à la synergie entre corps-mental-esprit! Apprends tous les secrets de l'ICEMAN et de sa méthode
Instructor level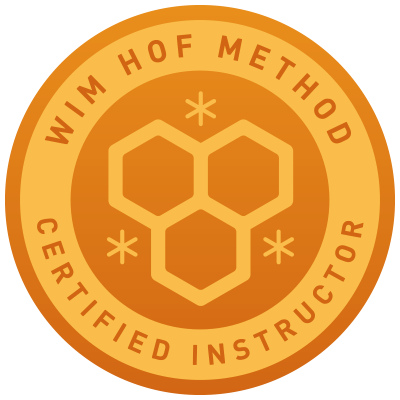 Activities
Nature
Breathing
Sauna
What you get
3 jours alliant stage Fondamentaux et stage Avancé avec Leonardo Pelagotti instructeur niveau 3
BONUS sauna+bains nordiques!
Program
Although there is always a rough outline, 'no program' a Wim Hof Method mantra. For the best experience, go in with an open mind and without expectations. The start- and end times listed in this section are subject to change.
Please make sure that you show your order number on arrival, either on a print-out or via your phone.
We advise to eat light, if at all, before the workshop.
JOUR 1
- Parties sur la respiration: nous voyons les bases d'une respiration saine, comment éviter les erreurs et apprendre les bonnes pratiques qui nous permettent de gérer notre stress, d'être plus sereins et détendus et d'optimiser notre énergie au quotidien. Ces exercices sont issus du programme d'optimisation de la respiration Oxygen Advantage.
- Pratiques et explications théoriques de la respiration Wim Hof avec des exercices guidés pas à pas pour apprendre à se détendre en profondeur, à équilibrer le système nerveux entre un état de calme et d'attention/concentration.
- Sessions sur le mouvement: yoga, 5 Tibétains, étirements et relaxation.
- Préparation mentale: visualisation, casser les croyances limitantes, trouver la bonne forme mentale pour affronter les défis au quotidien.
- Préparation à l'exposition au froid: les erreurs à éviter, les outils à mettre en place, les bienfaits du deuxième dégrée, le changement de perspective, comment se réchauffer après l'exposition.
- Exposition au froid (bain de glace/lac/cascade): partie qualitative d'exposition au froid, dépassement, découverte d'autres moyens en nous. État mental très positif, libération des hormones du bonheur et énergie.
- Débriefing pour clôturer la journée
- Soirée avec explications scientifiques de la Méthode Wim Hof et programme Oxygen Advantage.
JOUR 2
- Pratique des exercices avancés de respiration Méthode Wim Hof avec les exercices de respiration anti-inflammatoire et la respiration hybride.
- Partie en lien avec le froid en pleine nature: baignade à la cascade et au lac en l'abordant avec différents états émotionnels positifs.
- Partie autour du mouvement naturel et des sessions de réveil corporel
- Pratiquez l'alternance chaud/froid entre sauna et lac/bain de glace et les bains répétitifs.
- Débriefing pour clôturer la journée
Temps libre - Sauna/Bains Nordiques
JOUR 3
- Pratique des exercices avancés de la respiration Méthode Wim Hof avec l'exercice Power Breathing
- Randonnée en montagne à la Wim Hof en short
Déjeuner Repas festif typique du Cantal
- Partie intégration de la Méthode dans son quotidien: comment pratiquer après le voyage et comment rester en lien.
What to bring
- Habits confortables/chauds
- Maillot de bain & serviette
- Tapis de sol
- Chaussures de rando
- tongues
- tapis Yoga
Food
Local, cuisinée par le restaurant du Lac des Graves
Lac Des Graves, Jaulhac, Lascelle, France
Info
Logés au Domaine du Lac des Graves, Cantal près du Puy Mary. Cadre en pleine nature régénérant et calme avec son lac privatisé. 3 jours, 2 nuits et 2 repas compris dans le prix. Sauna, Bains Nordiques avec Cocon Mobile