Information
Program
What to bring
Location
This expedition consists of 6 days in Mount Kenya! We will be camping in the wilderness, enjoying breathwork, hiking and training in cold mountain lakes.
In this week you will delve deeper into the Method; practice with the cold extensively, expand your breathing techniques as well as your commitment. This extended experience is a great way to clear your mind of any clutter, get a fresh perspective on life and to just let go.
Who is this week for?
This week is designed for practitioners who want to deepen their practice and get out of their comfort zone.
You will be guided by Heather, a level 2 Wim Hof Method Instructor and Ciaran, an accomplished Mountain Guide and Botanist.   You will enjoy a challenging adventure, camping in in stunning surroundings with the possibility of seeing epic Kenyan wildlife along the way! 

Example Itinerary:
Every day will include a walk,  breathwork and cold training. 
Day 1: Nairobi to Chogoria - 2 hours walk. 
Day 2: 3 hours walk to Lake Ellis
Day 3: Walk  7-8 hours to lake Michaelson: View of peaks.
Day 4: Walk 3-4 hours to to Simba Tarn 
Day 5: Walk 2 hours to Summit of Lenarna…. Passing the Harris Tarn on the way up
Day 6: Descend down Naro Moru track on the southern side of the mountain (6-7 hours).  Camp at the Tileki Valley
Instructor
[205]
Breathing dreams like air
Instructor level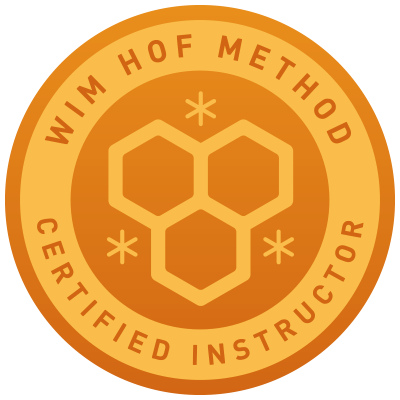 Activities

Nature

Ice Bath

Breathing
What you get
Porters to carry tents, food and backpacks, all meals, transfers and park fees included. Experienced Guides.
Program
Although there is always a rough outline, 'no program' a Wim Hof Method mantra. For the best experience, go in with an open mind and without expectations. The start- and end times listed in this section are subject to change.
Please make sure that you show your order number on arrival, either on a print-out or via your phone.
We advise to eat light, if at all, before the workshop.
What to bring
Lots of warm clothes, walking boots, sun cream, rain jacket, backpack, walking poles, snacks, lip balm, adventurous spirit!
Food
Food will be cooked by a chef and includes three meals a day. The menu will be vegetarian unless requested otherwise.
Mount Kenya, Kenya
Info
Fly into Nairobi and a transfer will come to pick you up! Mount Kenya is absolutely stunning and the lakes are perfect for training. This experience requires a basic level of health, ability to walk, and some experience with the cold. It will be transformational and joyful. Buckle up!