WHM Grundlagen-Workshop
Buteyko Centre, Lerchenhöhe, Pfaffenhofen an der Ilm, Germany with Silvia Maier
Location
Germany
Pfaffenhofen an der Ilm
Location
Germany
Pfaffenhofen an der Ilm
Location
Germany
Pfaffenhofen an der Ilm
Location
Germany
Pfaffenhofen an der Ilm
Location
Germany
Pfaffenhofen an der Ilm
Location
Germany
Pfaffenhofen an der Ilm
Location
Germany
Pfaffenhofen an der Ilm
Location
Germany
Pfaffenhofen an der Ilm
Location
Germany
Pfaffenhofen an der Ilm
Information
Program
What to bring
Location
Dies ist ein Einstiegsworkshop, der für Anfänger und neugierige Neuankömmlinge gedacht ist.
Es werden alle Facetten der Wim-Hof-Methode behandelt. Sie erfahren, wie Sauerstoff und Kälte den Körper positiv belasten, lernen, wie der Geist kontrolliert werden kann, und beschäftigen sich mit einer Vielzahl von Atem- und Kältetherapieaktivitäten.
Diese Workshops sind auf 25 TeilnehmerInnen begrenzt, um eine intime Qualität zu garantieren, die eine umfassende persönliche Betreuung und ein auf Ihre spezifische Situation zugeschnittenes Feedback ermöglicht.
Für wen ist dieser Kurs gedacht?
Dieser Workshop ist für jedermann geeignet, setzt aber ein Mindestmaß an Gesundheit voraus. Vorsichtshalber raten wir von einer Teilnahme während der Schwangerschaft oder wenn Sie Epileptiker sind, ab. Personen mit Herz-Kreislauf-Problemen oder anderen ernsthaften Gesundheitsproblemen sollten immer einen Arzt konsultieren, bevor sie mit der Wim-Hof-Methode beginnen.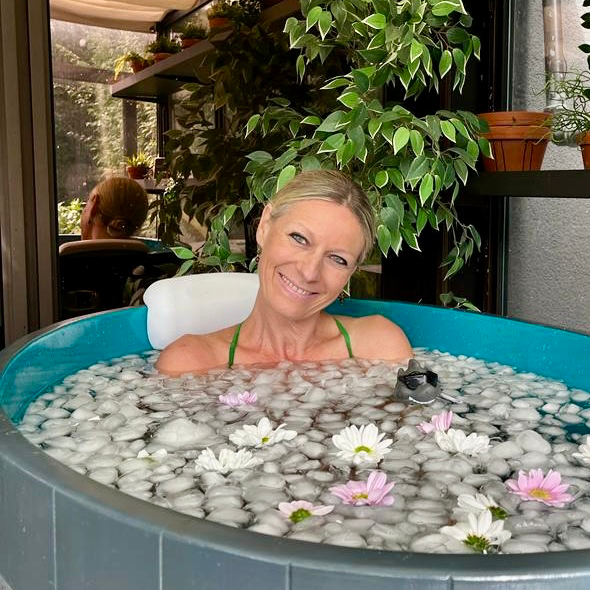 Instructor
[12]
Werde stark, glücklich und gesund, ich unterstütze dich dabei!!!
Instructor level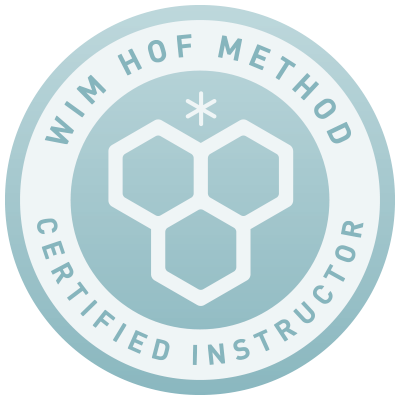 Activities

Theory

Nature
Meditation

Ice Bath

Breathing
What you get
*Expertenwissen zu Atmung, Kälte & Mindset
*Tiefe Atemmeditationen
*Transformatives Eisbaden
*Networking
*Spaß
Program
Although there is always a rough outline, 'no program' a Wim Hof Method mantra. For the best experience, go in with an open mind and without expectations. The start- and end times listed in this section are subject to change.
Please make sure that you show your order number on arrival, either on a print-out or via your phone.
We advise to eat light, if at all, before the workshop.
Programm:
In diesem Workshop erhältst du viel Wissen über die Wim Hof Methode, erfährst wie du ins richtige Mindset kommst, dich richtig aufwärmst, welche Atemmethode du vor dem Eisbad anwendest und welche während dem Eisbaden. Du gehst - wenn du möchtest - ins Eisbad, ich begleite dich dabei und unterstütze dich. Du wirst auf alle Fälle viel Spaß beim Workshop haben und viel für dein Leben nach dem Wim Hof Workshop mitnehmen können, denn 'You are stronger than you think you are!'
Dieser Workshop ist auf maximal 10 Teilnehmer begrenzt, um eine gute Betreuung für dich sicherzustellen
Dieser Workshop wird auf deutsch gehalten, kann jedoch, gegen Aufpreis, auch 2-sprachig angeboten werden.
🌬️ Atemsessions ☝️Theorie ❄️ optional Eisbad (alles kann, nichts muss) 🩵 Spaß
Du wirst optimal auf den Workshop vorbereitet, erhältst zusätzliche Infos von mir für die Integration der Methode in deinen Alltag.
Specials an folgenden Terminen:
X-Mas Wim Hof Grundlagen Workshop: Mein Studio erstrahlt im Weihnachtsglanz, genieße weihnachtliche Leckereien und stimme dich positiv auf die Feiertage ein. 🥜🎄💝
Neujahrs Wim Hof Grundlagen Workshop: positioniere dich fürs neue Jahr! 🍀🍀🍀
Wim Hof Grundlagen Workshop: Women only 🧘‍♀️🧘‍♀️🧘‍♀️
What to bring
Yogamatte
Decke
evtl. Kissen
Badesachen
Handtuch
bequeme Kleidung
Neugier
Gute Laune!!!
Komm bitte frisch geduscht ;)
Food
Es werden leckere Bio Snacks und Getränke bereitgestellt, die auch für Veganer und Allergiker geeignet sind.
Buteyko Centre, Lerchenhöhe, Pfaffenhofen an der Ilm, Germany
Info
Mein exklusives Studio ist in Pfaffenhofen. Parkplätze sind vor dem Gebäude und im Wohngebiet vorhanden. Der Bahnhof ist nur knapp 5 Minuten fußläufig entfernt. Hygiene ist mir sehr wichtig, daher verfügt mein Eisbad über eine professionelle Filteranlage aus der Pooltechnik