Information
Program
What to bring
Location
Ceci est un atelier d'introduction, destiné aux débutants et nouveaux arrivants curieux. 
Toutes les facettes de la Méthode Wim Hof seront couvertes. Tu découvriras comment l'oxygène et le froid provoquent des stress bénéfiques sur ton corps, apprendras comment l'esprit peut être contrôlé, et tu exploreras diverses activités de respiration et thérapie par le froid.
Ces ateliers sont limités à 25 participants, de sorte à garantir une qualité intimiste qui permet une attention individuelle, et un feedback adapté à ta situation spécifique.
Pour qui ce cours est-il fait? 
Cet atelier est adapté à tout le monde, mais requiert un niveau de santé de base. Par principe de précaution, nous déconseillons ce cours en cas de grossesse ou d'épilepsie. Les personnes qui souffrent de pathologies cardiaques, ou n'importe quelle autre problème de santé important devraient toujours consulter un professionnel du corps médical avant de débuter la Méthode Wim Hof.
Instructor
[13]
Through the WHM I've healed my anxiety, panic attacks, and dark thoughts. My passion now is to help others to do the same.
Instructor level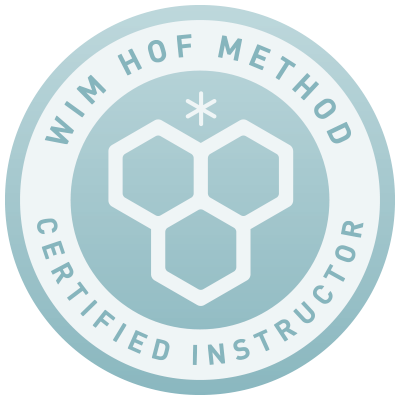 Activities

Breathing

Ice Bath
Meditation
What you get
Une expérience unique et hors de l'ordinaire.
A unique and extraordinary experience.
Program
Although there is always a rough outline, 'no program' a Wim Hof Method mantra. For the best experience, go in with an open mind and without expectations. The start- and end times listed in this section are subject to change.
Please make sure that you show your order number on arrival, either on a print-out or via your phone.
We advise to eat light, if at all, before the workshop.
23-09-2023
Présentation de la méthode / Introduction to the method
Mindset et préparation au bain de glace / Mindset and preparation to ice bath
Parlons et partageons un peu / Let's share and talk
Vous êtes libre et plus heureux! / You are free and happier!
What to bring
Maillot / bathing suit
Serviette / towel
sandales / sandals
your smile / votre sourire
Food
Tea, water and light snacks will be provided.
Thé, eau et petite collation seront offerts.
250 Rue Séraphin, Sainte-Adèle, QC, Canada
Info
À environ 45 min de Montréal